INT. PARKING GARAGE – NIGHT

Open on the ground floor of a nearly empty parking garage. THE VAMPIRE is sitting on the roof of a battered black car. He is leaning back on the windshield, completely relaxed, smoking a clove cigarette. About ten feet away a woman in red is slowly walking away from the car, swaying. She stumbles slightly, catches herself and walks out of the picture. The Vampire flicks his cigarette.




THE VAMPIRE
You're late.



Enter THE VAMPIRES partner, THE STIGMATIC. There are white bandages wrapped around the palms of his hands. He pulls a pack of cigarettes and a lighter.




THE STIGMATIC
You look like a fruit.



THE VAMPIRE gives his partner the finger. THE STIGMATIC lights his cigarette



Don't be that way Princess.

THE VAMPIRE
I can eat you.

THE STIGMATIC
The Robots are on the street again.

THE VAMPIRE
Fucking whores.

THE STIGMATIC
I know. You've eaten, right? You're not going to puss out on me again, are you?

THE VAMPIRE
Yeah, sure, I ate your mom.



THE STIGMATIC pulls black fingerless gloves over the bandages on his hands.




THE STIGMATIC
Get in the car.



THE VAMPIRE rolls off the car. His movements are effortless.




THE VAMPIRE:
You know, if someone else on this force could bench press a cool ton, maybe we wouldn't always be knee deep in stainless steel pussy.

THE STIGMATIC
Maybe if someone looked older than 15, he could drive the car and I wouldn't have to go anywhere near the Electric District.

THE VAMPIRE
Seventeen.

THE STIGMATIC
What?

THE VAMPIRE
I was seventeen, and in my time, you had been fucking your very own thirteen year old since fifteen.

THE STIGMATIC
That is sick.

THE STIGMATIC gets in the car. The vampire shrugs and stamps out his clove.

THE VAMPIRE
Well, you know what they say. The lap-dance is always better. . .

THE STIGMATIC
Shut up.



This is based off a wonderful idea Cryptonaut has for a buddy cop movie about a vampire and a stigmatic. It also has zombies. And robot whores. Great stuff. Fantastic idea. He needs to make this movie.

I wrote this scene based on his idea. It just sort of happened.

Cryptonaut, I hope you are not mad. It wrote itself. I couldn't help it. Your idea is just REALLY cool.

I have wanted to do "screenshots" from this movie for a while and then this scene played itself in my head and now I REALLY want to do a photoshoot in a parking garage. I would love to use two particular models to play the stigmatic and the vampire. I'm not sure they fit Jasons vision, but I imagined them in my mind and they were perfect.


I would ask this gentleman to play THE VAMPIRE: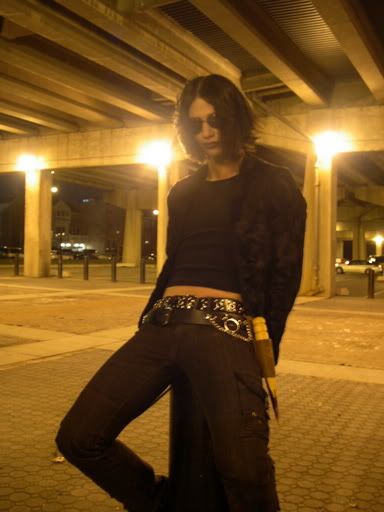 I would ask this gentleman to play THE STIGMATIC:




I think it would be marvelous.