The writers of
365 Tomorrows
has been invited to be guests at
PhilCon 2005
. PhilCon will be held on December 9th to 11th, at the
Marriot Hotel
in downtown Philadelphia. We will be hosting two panels, 'Publishing Online' and 'Flash Fiction'.
Nick Popio, my dear friend and employee of Lulu, will also be attending to talk about publishing online and other such wonderful topics.
To all those who attend, we will be giving out a free CD of recorded stories from 365 Tomorrows, along with exclusive stories that will not be on the 365 Tomorrows Podcast which we plan to launch in December.
If you want the CD but won't be attending
PhilCon
, we will eventually be selling the CD on the website and in the bookstore, Bindlestiff Books, which has just opened in West Philadelphia.
If you like the idea of audio recordings of 365 Tomorrows, you really have the Man from PlanetX to thank, whose Podcast,
The Voice of Free PlanetX
inspired me to record the stories. He has his own merchandise as well, which can be seen here, as modeled by someone, I don't know who, but clearly an individual with superb taste in underwear.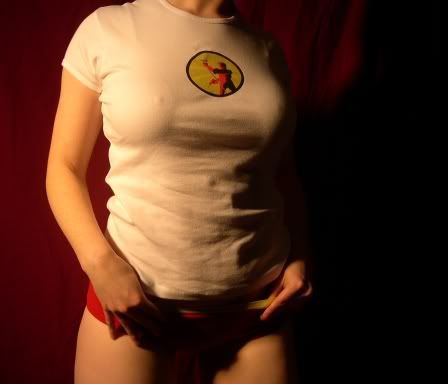 I didn't think I would be a guest at a convention this soon, nor did I imagine that my work would be sold in a bookstore in just a few weeks. Things are happening very fast. I feel like Alice in Wonderland, running twice as fast just to move forward. Of course, this is not actually a bad thing, I cannot imagine ever stopping. I am burning, I burn for this.